COMING SOON! Come When Called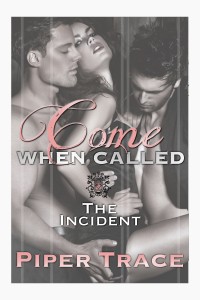 Ford is cool sexuality and dominance, Charley is warm muscles and affection, and Evie is the lucky girl in the middle…
Do you like your heroes dominant and refined or big tough-guys with a heart of gold? Doesn't matter…I've got the best of both worlds right here in my first erotic romance serial novel, Come When Called. As soon as I have the release date, I will share it here.
Charming and intense, Ford Hawthorne is a rich, gorgeous bad boy with dimples that make women want to take their clothes off. But he has a secret desire he hasn't allowed himself to act on–his fantasies of dominating a woman. He craves a particular type of domination…unlimited, unquestioning sexual pleasure at his beck and call. But instead, Ford keeps everyone at arm's length, not allowing himself to find that which he desires above all else.
Big, scruffy, and handsome as sin, biker Charley Baker is two hundred pounds of sunshine, muscle and sex appeal. He's Ford's best friend–Ford's only friend–and he's living in the same romantic purgatory as Ford. Because Charley has a secret of his own…he's in love with Ford Hawthorne. Charley knows what his best friend really wants, so he knows Ford could never be fully satisfied in his arms, even if Ford could open himself up to the idea of loving a man. But Charley can't stop loving the magnetic billionaire, so he covets him in secret, praying for a day when Ford might finally love him back…never truly believing that day will ever come.
Evie is a paralegal, working for Ford's attorney, and unbeknownst to Ford, she's caught in a situation that could have a deadly outcome. She and Ford have developed a special connection that turns into a flirtation neither can resist. The results of their late-night, impulsive romp at the law firm have far-reaching consequences, setting into motion a chain of events that will lead Ford, Charley and Evie through the twists and turns of a sexual journey that none of them saw coming. A sexual journey that knows no bounds–in ecstasy, in heartbreak and in danger.
Can strong, independent Evie be the woman who will let Ford take her at will? Share her on demand with his best friend? Come for him when he calls…
Can Evie be the catalyst to help Ford reciprocate Charley's love? Not just share a woman, but share fully in each other's strong, male bodies?
Can the three of them, somehow, find a happily ever after…together? And even if they do, can any of them survive it?
Come When Called is a contemporary, light-BDSM, ménage, erotic, M/M/F romance. It's a serial that is currently COMPLETE and told over a series of seven episodes. There is danger, graphic sex of all kinds, intrigue, master/slave elements, male/male sex acts, heartbreak, a few laughs and some knife-throwing. If you're into that sorta thing.
[Note: Read it. I bet you'll find you're "into that sorta thing".] 🙂
Bossing the Boss
Lauren is always in charge. She could never be a submissive…could she?
Lauren is wound as tight as a spring—stingy with her praise, her emotions and her heart. The youngest VP of sales in the firm's history, she's far too busy to attend the office party, which means when her sleeve is caught in the shredder, she's trapped, vulnerable, in the deserted offices.
Her best salesman, the handsome and charismatic Rob, has a secret—he's a dominant and hasn't been able to find the right submissive to satisfy his insatiable needs. When he rounds the corner of the file room and finds his stuck-up and domineering boss bound and helpless in a provocative position, he can't help his body's natural and intense reaction.
Lauren is always in charge. She could never be a submissive. And yet Rob's words and touch make her yearn to submit. And Rob wants nothing more than to show Lauren exactly who's boss.
Genre:  Contemporary, light-BDSM, erotic M/F romance. Contains sex acts in the office and an ice queen who secretly yearns to be shoved against the wall and taken by a man hot enough to melt her heart.
Buy it at Ellora's Cave: Bossing the Boss
Buy it at Amazon: Bossing the Boss
Buy it at Barnes & Noble:  Bossing the Boss