Come When Called…a fresh new menage for 2012
Isn't this a great cover? But I have to be honest, I'm going to miss staring at the guy on the cover of Fueling Her Fire once it gets closer to the release date for Come When Called, but I think I could get used to these guys too…
I'm hard at work revising Come When Called to make it EVEN hotter, EVEN more emotionally charged, EVEN more erotic than it was when Ellora's Cave accepted it for publication!
I've been reading a lot about what readers are looking for in their menage romance books and I'd love to hear from you! What do you love to see or want to see more of in a threesome / menage book? What do you HATE to see? Leave me a comment or ask me a question, and I promise to answer every one!
(General comments ONLY. NO plot / story ideas! This is a strict rule. Don't make me spank you.)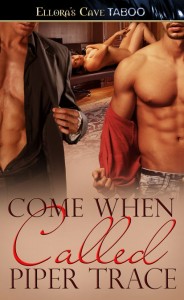 The release date is not yet set, but will likely be sometime in the first half of 2012. I'll keep you updated!
With a picture like that…what could be going on with these three??
Check out the book teaser here!
[Cover art by Dar Albert. Hot.]