My 5-star rated Ellora's Cave debut book is now available from All Romance! It's listed with four flames…enough to heat you up on this cold day! Plus All Romance is running a FIFTY PERCENT rebate special off all Ellora's Cave books, so it's never been more affordable to curl up in bed with Dylan…he's waiting for you there! HURRY!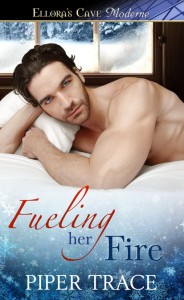 You can read an excerpt and buy the book all All Romance here: Fueling Her Fire
This is a hot, cozy, homey, snowed-in-with-a-hunk-in-a-cabin novella that's perfect reading for this snowy weather. I hope you check it out!
Read more…Fueling Her Fire