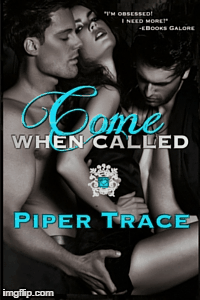 Have I mentioned that Come When Called, my MMF menage, is available FREE for Kindle Unlimited subscribers?
Come When Called is a standalone novel about a biker, a billionaire, domination and submission (light BDSM), and Evie, a strong heroine hiding from her dangerous ex-boyfriend. The book is approximately 400 sizzling pages long and has a happy ending. Blurb below.
For non-subscribers the ebook is $3.99 (beautiful trade paperback version is $16.95). The book is only sold on Amazon. http://www.amazon.com/dp/B011K698S2
Evie has made a deal with the devil. 
She has a safe-word. She has a way out. But her submission to him is her only way in…
**********
Billionaire Ford Hawthorne is cool sexuality and dominance, his best friend, biker Charley Baker, is warm muscles and affection, and Evie is the lucky girl in the middle.
Ford is a bad boy with dimples that make women want to take their clothes off, but he has a secret desire he's never allowed himself to act on—his fantasies of domination and control.
Unlimited, unquestioning sexual pleasure at his beck and call.
Big, scruffy, and handsome as sin, biker Charley Baker is two hundred pounds of sunshine, muscle and sex appeal. Charley has a secret of his own…he's in love with his best friend, Ford. But Charley knows what Ford really wants, and it's not him.
Evie is a paralegal working for Ford's attorney, and unbeknownst to Ford, she's caught in a situation that could have a deadly outcome. A late-night, impulsive romp at the law firm with Ford has far-reaching consequences, setting into motion a chain of events that will lead Ford, Charley and Evie through the twists and turns of a sexual journey that none of them saw coming. A journey that knows no bounds—in ecstasy, in heartbreak and in danger.
This novel is a complete, standalone, contemporary romance with a happy ending, no cliffhangers, and lots of hot, satisfying sex between two hot heroes and a heroine strong enough to handle them both.