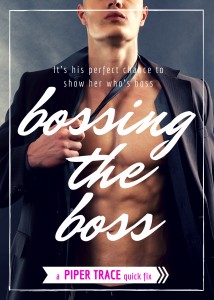 In the mood for a Piper Trace quick fix?? Free bedtime story!
"What are you going to do to me?"
"Anything I want," Rob growled. "You're always so demanding, Lauren, always in charge." He traced his fingers down her back, leaving a trail of chills. "You drive me so hard at work. You have no idea all the things I've imagined doing to you. I've wanted for so long to make you submit to me. To demand things of you, but in my bed. You need this lesson. It'll be good for you."
*********
Lauren is wound as tight as a spring—stingy with her praise, her emotions and her heart. The youngest VP of sales in the firm's history, she's far too busy to attend the office party, which means when her sleeve is caught in the shredder, she's trapped, vulnerable, in the deserted offices.
Her best salesman, super hot and charismatic Rob, has a secret. His boss Lauren is always pushing him harder and harder, but in his fantasies, he's got her under his control, completely.
Tied up, dominated, and satisfying his every sexual desire.
On the night of the big office party, when Rob rounds the corner of the file room in the deserted offices and finds his stuck-up and domineering boss bound and helpless in a provocative position, he can't help his body's natural and intense reaction.
Maybe it's time for Rob to show Lauren exactly who's boss.
**Bossing the Boss is a 25 page sizzling short story. It's a stand-alone erotic romance story with no cliff-hanger.**
Download for free!
Here: Amazon link
Here: Barnes & Noble Nook link
Or here: Inktera (ePub)