My 5-star rated Ellora's Cave debut book is now available on Amazon! Give yourself a merry, merry Christmas with this hot and romantic story today! Curl up in bed with Dylan with a hot toddy…clearly he's waiting there for you!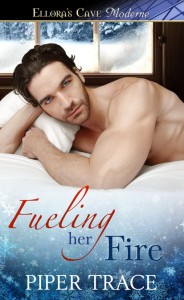 You can read an excerpt and buy the book here: Fueling Her Fire
This is a hot, cozy, homey, snowed-in-on-Christmas-Eve-in-a-cabin novella that's perfect reading for your holiday break. Please check it out!